BEHIND THE SCENES

Maria Assunta Karini

Maria Assunta Karini starts as a sculptor. She graduated at the Ecole National Superieure des Beaux Arts
in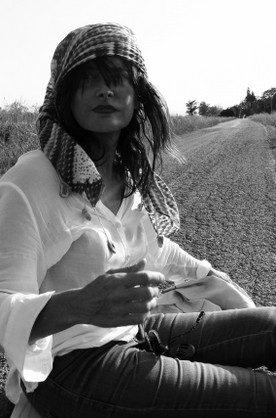 Paris in the sculpture section. In Carrara she studied marble technologies, and attended courses concerning sculptural technologies on granite for four months in Montreal, Canada.
Karini attended a sculpture workshop SGF in Carrara, Italy.
She has participated in numerous exhibitions and competitions of monumental sculpture (Israel, Brazil, Mexico, France, Czech Republic, Korea). Some of most prominent Karini public works can be found in numerous international public and private collections.
Subsequently, she undertook a path of visual experimentation in photography and video installation. She realizes numerous projects through the mixture of these two means of expression, thanks to an individual course of scientific research and its applications in art, and to international collaborations with multidisciplinary artistic groups.
At the same time Karini develops a work of director and writer, producing several short and medium length films that have participated in national and international festivals (Cannes, Seattle, Seoul, Tehran, Clermont Ferrand, Barcelona, Athens, Warsaw, Amsterdam etc.), and won several prizes and awards .
Karini took part at numerous expositions in museums, foundations and galleries, among others Contemporary Art Museum BAC in Barcelona (Spain) and Mart Contemporary Art Museum of Trento and Rovereto (Italy).
She collaborated in making of music videos such as the docu-movie Break blues, in which big names of American music and literature took part, for example Joe Lansdale, Watermelon Slim, Super Chikan, Anthony Neal Smith, Tim Willocks, Frank Lisciandro and Lance Leadbetter.




Alena Juriša

Born in Fiume (Croazia). Attends the Academy of Fine Arts of Venice, studying Painting.
Subsequently she graduates in Communication Sciences, obtaining a degree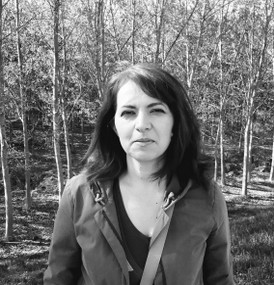 in Intercultural Communication at the Milano – Bicocca University. From 1998. she carries out several courses of painting and creativeness for children and continues her activity of translator/interpreter from Croatian, English and German. Jurisa collaborates with RAI ( Italian Radio Television) as Advisor for the events during Prix Italia 2005, international contest for Radio,Television and Web.
She achieves the qualification of Intercultural mediator and works in various schools in Piacenza and province, planning and coordinating educational projects.
From 2010. Jurisa collaborates with KMA Production in the creation and organization of artistic projects in Italy and abroad. She is working actually also on a series of children's stories.






Luka Moncaleano

Luca Moncaleano was born in Piacenza 1990. He is graduating at the faculty of Artistic and
Performing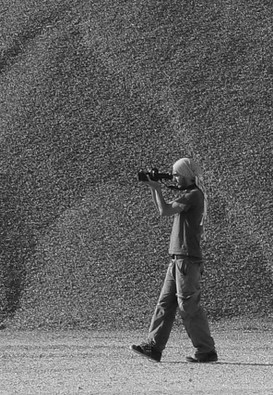 domain in Parma (Italy); in 2004 he wins the prize Italian Factory for the young Italian painting. In 2005 his first personnel to the "Factory of the Vapour"of Milan attended by the critic Alessandro Riva. In 2006 the second solo show "The digital imprint of the thumb of Astrid" attended by Gianluca Marziani and Chiara Canali at the LEAP Laboratory Energy Environment Piacenza. He has participated in different collective shows: 2007 To Be Continued.. Fabbrica Borroni Milan, 2008 Contemporary art festival Future Present Faenza Museum Carlo Zauli , 2008 Rumors ex Arsenal Borgo Dora Turin, 2010 Arte Laguna Prize, 2011 Museum Correr Venise, 2011 Fornace of Asolo, 2012 "I Ritratti dell'Io" ex Ansaldo Milan, and is among ten artists selected by the IBC Cultural and Environmental Artistic Heritage of the region Emilia Romagna, Italy. He is also a photographer: his photos have participated in international contests. He has taken part as performer to different video, "Abraham's Greenhouse, Trigeminal, Youngsters", that have participated in prestigious short film festivals, ( Cannes short Film Corner, Seattle Film festival, Seoul Film Festival ). He has participated as assistant operator to video in international, co-productions, "Breack Blues" with participation of (Joe Lansdale , Tony Washington, Watermelon Slim, Super Chikan, Anthony NealSmith, Tim Willoks, Frank Lisciandro , Lance Leadbetter), Performance Video "Blossom on the Tree" Song by Max Marchini ,Paola Tagliaferro e Peter Sinfield.

Premanand Bhageerathan

Premanand Bhageerathan, Director Of Photography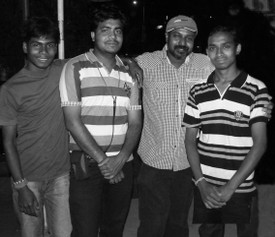 Cinematographer with experience in movies and documentaries. He has worked with different movie directors, among others M.Night Shyamalan (The Sixth Sense, The Village etc), Anand Kumar (Delhi Heights etc), Hriday Shankar Mishra, and has worked as assitant to Madhu Ambat from 1990 to 1995.
Latest works include a hindi movie "Valentines Night" released in feb, 2012., film "Jugaad" and "Private No" Directed by Mr. Anand Kumar and produced by Mr. Sandip Kapoor.     
Bhagheerathan has woked on different documentaries for National Geographic / NFDC / DOORDARSHAN / UNESCO / UNICEF..
Film For UNESCO Film For Children for Satish Pandey.





Jacopo Chiari

After his studies in sound design, Chiari works in the musical production, arrangement and sound
design,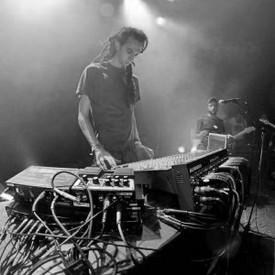 besides he takes part in variuos live shows in Italy and Europe. Among his works there are record publications for ODGProd, Italian Dub Community, 4Weed Records; sound editing for WEA Records, Incasa Records; collaborations with festivals and events as a recording engineer and sound designer (miking, recodring, mixing, post-production for orchestra of 20 elements - Camerata of Royal Concertgebouw of Amsterdam, Torrechiara Festival Renata Tebaldi; production of music and sound material for video projection, Visibilia Festival ,Monza - in collaboration with Brujos Team; sound design for Salone del Mobile, Milano).